Lodging & Meals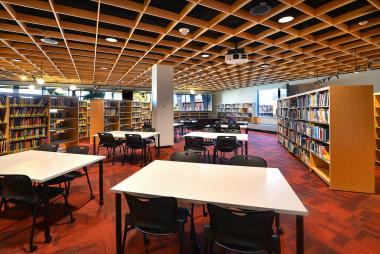 Our meeting space is Worlds of Words, where participants are in the midst of children's and young adult collections and digital resources. We have easy access to the physical and digital resources at the Arizona State Museum, Special Collections at the UArizona Library, and the Arizona Historical Museum. The college also has a new Digital Innovation and Learning Lab with a wide range of technology available for our use.
Participants will receive professional development certificates. They can receive university graduate credit if they register for a course option and write a final reflection on the institute, with the stipulation that tuition fees are their responsibility.
Lodging and meal plans will be available for a University of Arizona dorm as well as a local hotel.
On-Campus Housing
Coronado Hall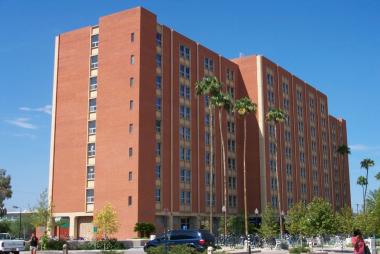 Housing is available on campus in Coronado Hall with single rooms and a bathroom shared between two rooms (suite style). The rate is $41/person/night with no linen provided OR $47/person/night with linen provided (sheets, a blanket, a pillow, a towel, a hand towel, and a wash cloth).  If you choose the price without linen, you need to bring your own linens with you. 
We have requested the seminar participants be housed on the same floor. View Coronado Hall and get a sense of the rooms and layout – the rooms are very basic plain dorm rooms.  We have been told that only adults are in this dorm.
Book your stay through the Conference & Guest Sevices Website by selecting the Individual Guest Request Form option.
Hotel Option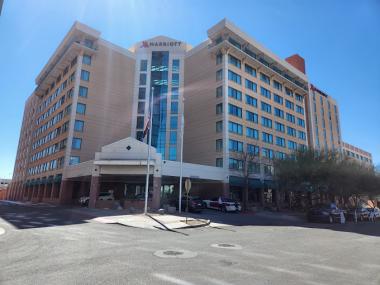 Tucson Marriott University Park, 520-792-4100
This hotel is an easy walking distance across the campus to Worlds of Words and also has easy access to many restaurants and shops on University Blvd.  The hotel has indicated a rate of $104/per night (but that may be adjusted slightly if we don't meet the minimum of 10 rooms).  Summer is not tourist season in Arizona so hotel rates go down and that is why we were given a reasonable rate (winter rates are $240/night).  If you make a reservation at the Marriott, please call and identify yourself as part of NEH to get the discount.